A Vintage car is an old style classic car that ruled the 1919 to 1930 with their prestigious unique exterior which makes them all the more rare and special.  The are a variety of fascinating wedding cars for hire in Uganda including stretch limousines, Mercedes Benz models, sport cars but none is as eye-catching as a well decorated well decorated classic vintage car. Driving to your wedding  in Uganda in a classic vintage car not only shows wealth but also style and class; something every couple and family want on the most special of days. straight from the eye catching exterior to the royal interior , a vintage is truly magical guaranteed to turn heads in the streets, reception and church.
Tristar Africa Skimmer Safaris presents to you the top 3 vintage cars in Uganda guaranteed to spice up any wedding entourage.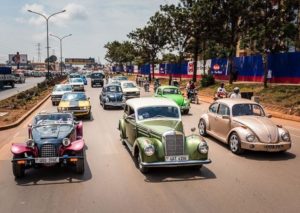 Rolls Royce – The classy Rolls Royce is a British manufactured Vintage that has been there since 1906 , the extended front end coupled with royal interior  and eye-catching tyres will marvel anyone including invited guests as well as outside pedestrians. The well designed  long engine front plus huge tyres and royal seats has made this one of the most popular vintage cars for hire Uganda.
Ferrari -The Ferrari is stylish sport car manufactured  by Ferrari NV, one of Italy's most popular car manufactured based in Marinelli.  The car has been evolving since 1939 with a the first Ferrari manufactured in 1940 making it one of the oldest car brands in the world. The exterior fierce exterior coupled with cozy sports interior and superb speed makes it the ideal car for a sports and movie fanatic as you will feel like you are in a movie.
Volkswagen beetle – The adorable beetles are some of the most attractive wedding cars for hire in Kenya . Manufactured as early as 1930, these small frog-like cars are guaranteed to marvel your guests coming in all colors that will light up any event. So if you want to go simple and classic, when not rent a beetle for the special day.
Planning a wedding in Uganda and would love to rent a vintage car, the above 3 classic cars are the ideal cars you can check out. You can call us on +254-713510387 to talk to our reservations team or simply send us an email to in
Please follow and like us: